Three things to share today. First, scans from Nintendo Power for Ace Attorney Investigations: Miles Edgeworth.
Page 1
Page 2
Page 3
Page 4
(Of course, the
announcement
and
trailer
were revealed just a short time ago).Kay seems to have a way of recreating crime scenes, so that ought to be interesting, if it isn't as half-assed as it was in 4-1.
Second, we have another NP scan, this time of an interview with Yuji Naka. A little bit of Sonic here and there, but it's mostly about what he's doing at Prope and how he develops games.
The live action "variety show" that's all about those Pocket Monsters - Pokémon Sunday - recently announced that next week, there'll be a major game announcement on the show. Given that Coro Coro and Nintendo Dream have also been alluding to a "much-talked-about big title", this would be enough to set speculations onto the G/S remakes. But that's not enough for me to make a thread here. This is: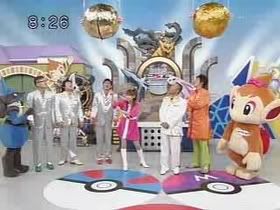 Quote
The most recent episode previewed the annnouncement (sic), showing two balls, one gold and one silver, which will be opened to unveil the announcement's subject.
Source.
This is so obvious. If it turns out to be a wrong prediction, it will be one of the most massive trolls I've felt in my whole life. There's been so many allusions, such as the fact that, in D/P/P's coding, there exists the possibility for a Mon to have its origin set at "Johto".Now if (and this is still speculation) a G/S remake is made, they'll have plenty of reasons to do so. Of course, there's the fan call for it, but it also makes sense in light of the DSi's release - it could potentially make it so you don't need any of the GBA games, or, more importantly, the Gamecube games. There's also a mysterious comment Oak makes about the white rock in D/P/P, and how there's a similar one in Kanto, when we've yet to see such a rock. You can see the whole shebang on fan speculation and reasoning
here
. Of course, for extra content, we have the obvious - new areas, and new subplots, probably involving Team Rocket. I'd personally like to see the area north of Kanto/Johto.What do you all think? Is this going to happen? Do you want it to happen? I realize the formula is getting pretty stale, but before we totally revamp the series for Generation V, I'd like to at least have my chance to fight Lance again (I never beat him in Gold due to some stupidity about saving during the E4 totally unprepared).
I hope you guys enjoyed my massive cross-post. I've got the whole issue of NP, by the way, so if you want Red Steel 2 or Mario & Sonic scans or something like that, let me know.